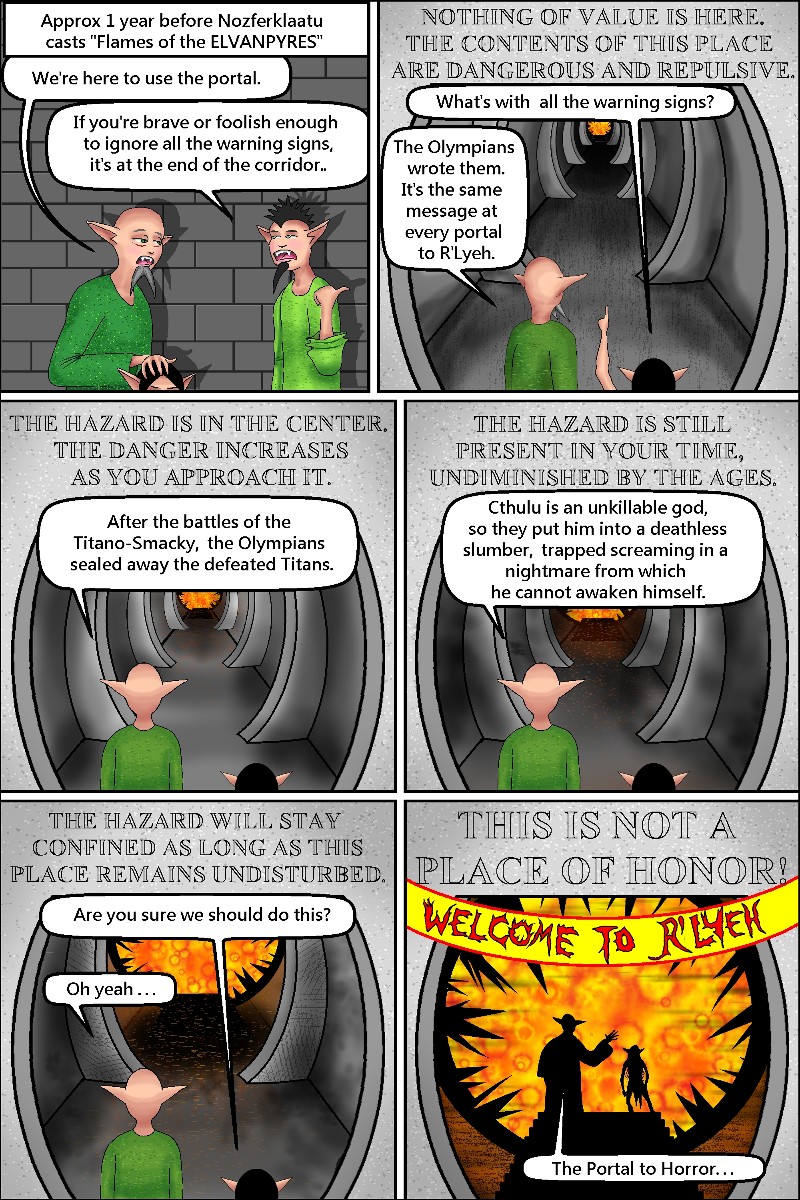 ↓ Transcript
139 – WARNING SIGNS
"Reading!" (Ding!) Sorry about the Wall of Text, but this page was supposed to be minimalist. By seeing only the top of Cthulyns' head (and silhouette) it emphasizes that she's short (just a child), and hopefully build anticipation for her real introduction next comic in "A Special Elf Child" If you don't get this weeks reference try: http://www.damninteresting.com/this-place-is-not-a-place-of-honor/


Approx 1 year before Nozferklaatu casts "Flames of the ELVANPYRES"
Twinch: We're here to use the portal.
Elf Custodian: If you're brave or foolish enough to ignore all the warning signs,it's at the end of the corridor..

SIGN #1: NOTHING OF VALUE IS HERE. THE CONTENTS OF THIS PLACE ARE DANGEROUS AND REPULSIVE.
Cthulyn: What's with all the warning signs?
Twinch: The Olympians wrote them. It's the same message at every portal to R'Lyeh.

SIGN #2: THE HAZARD IS IN THE CENTER. THE DANGER INCREASES AS YOU APPROACH IT.
Twinch: After the battles of the Titano-Smacky, the Olympians sealed away the defeated Titans.

SIGN #3: THE HAZARD IS STILL PRESENT IN YOUR TIME, UNDIMINISHED BY THE AGES.
Twinch: Cthulu is an unkillable god, so they put him into a deathless slumber, trapped screaming in a
nightmare from which he cannot awaken himself.

SIGN #4: THE HAZARD WILL STAY CONFINED AS LONG AS THIS PLACE REMAINS UNDISTURBED.
Cthulyn: Are you sure we should do this?
Twinch: Oh yeah . . .

SIGN #5: THIS IS NOT A PLACE OF HONOR!
R'Lyeh CoC Sign: WELCOME TO R'LYEH
Twinch: The Portal to Horror. . .