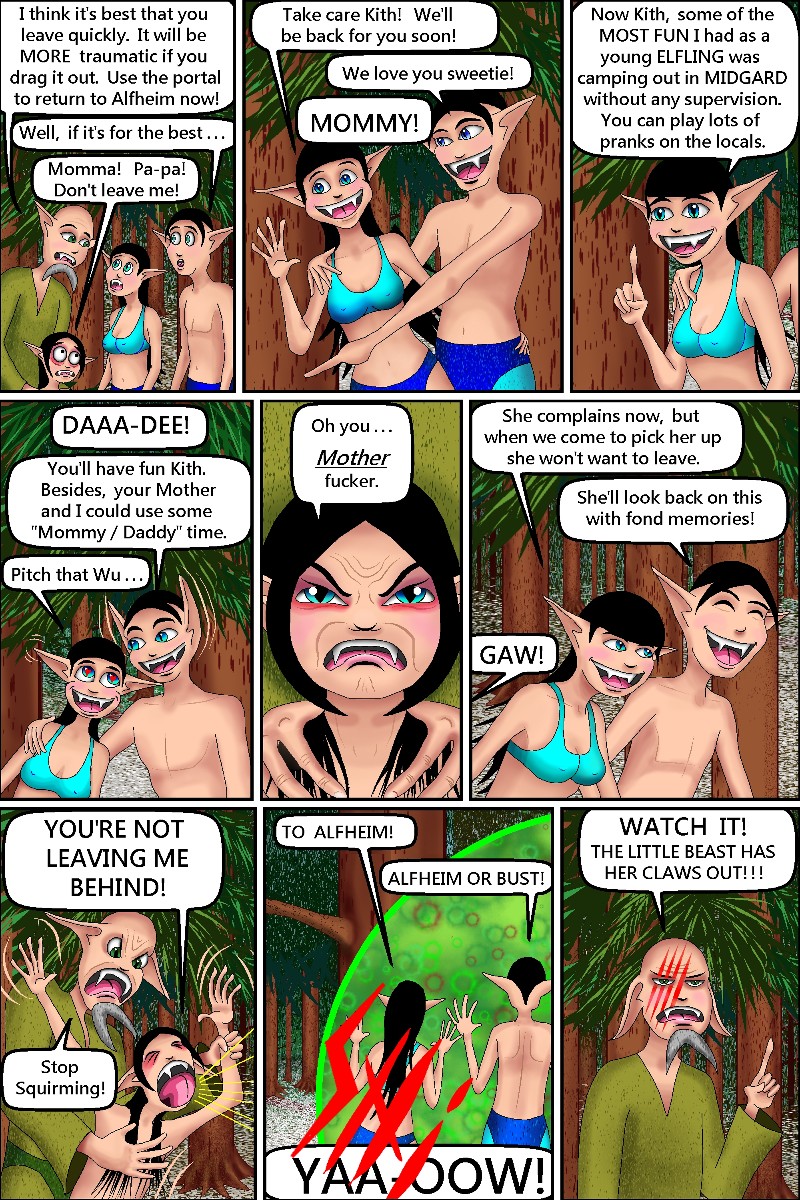 ↓ Transcript
145 – The Forsaken Elf
Kithy's Mom has got it goin' on! To be fair to the Elves, this is their equivalent of dropping your kids off at the park while you run some errands. Also, Panel 3 explains why people think Elves are small - usually it's the Elf kids playing pranks that are seen by people.

Kith's Mother:

Twinch: I think it's best that you leave quickly. It will be MORE traumatic if you drag it out. Use the portal to return to Alfheim now!
Kith's Father: Well, if it's for the best . . .
Kith: Momma! Pa-pa! Don't leave me!

Kith's Mother: Take care Kith! We'll be back for you soon!
Kith's Father: We love you sweetie!
Kith: MOMMY!

Kith's Mother: Now Kith, some of the MOST FUN I had as a young ELFLING was camping out in MIDGARD without any supervision. You can play lots of pranks on the locals.

Kith: DAAA-DEE!
Kith's Father: You'll have fun Kith. Besides, your Mother and I could use some "Mommy / Daddy" time.
Kith's Mother: Pitch that Wu . . .


Kith: Oh you . . . Mother fucker.

Kith's Mother: She complains now, but when we come to pick her up she won't want to leave.
Kith's Father: She'll look back on this with fond memories!
Kith: GAW!

Kith: YOU'RE NOT LEAVING ME BEHIND!
Twinch: Stop Squirming!

Kith's Mother: TO ALFHEIM!
Kith's Father: ALFHEIM OR BUST!
Claw SFX: SHI
Twinch: YAA-OOW!

Twinch: WATCH IT! THE LITTLE BEAST HAS HER CLAWS OUT!!!