Welcome to ELVANPYRES, my amateur webcomic.
–
It is supposed to be funny comic, which I hope people will enjoy, however the web site is a bit of a mess.
–
So I made this guide to try and help you find your way to the humorous sections.
–
Feel free to skip around the story, because the Elves don't care much about the plot, they're too busy joking around.
(See those words on the menu bar? Clicking on them might take you to places where funny drawings reside)
–
If you don't mind Black and White pencil drawings, start with "The City Of Blood" story, about the Elvanpyre Kith and her Guard Witch Heather setting off to find the fabled City of  Blood.
–
–
However if you want COLOR comics your best starting point is page 93, which is where the Elves get turned into Vampires, and also where the art FINALLY starts to get decent.
–
–
——————————————————————————-
THIS PAGE IS THE BUFFER BETWEEN THE MAIN STORY AND THE LATEST "FILLER" PAGES
–
From this page the "Previous" button (<) will take you to the last known page of "The Full Color Main Story",
the "Next" button (>) will take you to the latest "Filler" page(s)
–
MAIN STORY (Full Color)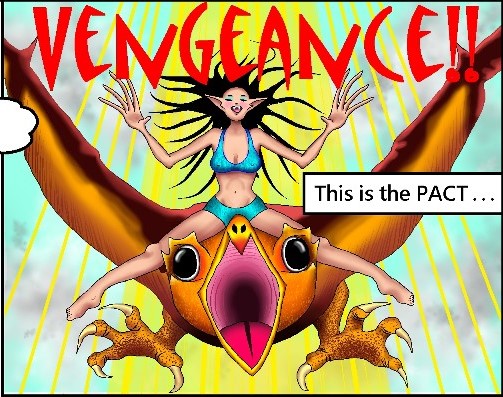 –
ELVANPYRES main story (the ones with the full color comics) will resume when I get my shit together. Currently I'm stuck near the beginning of Chapter 2.

–
HOWEVER, IT TOOK 93 PAGES FOR THE ART TO GET DECENT –
SO IF YOU WANT TO READ THE MAIN STORY USE THIS LINK FOR THE REAL STARTING POINT
–
FILLER STORIES (Black & White)

–
If you want to read the Filler Stories you need to go to that Story Page.
Here are the Options:
–
THE KRAMPUS SHORT STORY  (9 comics, featuring Kith as a child with her pet Krampus)
THE "CITY OF BLOOD" PAGE (The current storyline with 10+ Comics)
THE CHAPTER 2 & 3 "SPOILERS" (22 "filler" comics, including map of ELVANPYRES world)
THE PARODY PAGE (a bunch of comics, some in color!)
The "SPOOKY SONG LIST"   was a Halloween special with links to YouTube songs
–
HAPPY LAUGH HUNTING