The Previews are about the Events of Chapters 2 & 3.   They were filler pages when I could no longer keep up a once a week schedule and ended up going on semi-hiatus. They are pages from my plot book, redrawn slightly better. The plot book runs over a hundred pages in front of the story (which I wrote back when I was unemployed), so I had plenty of material to choose from without giving the plot twists away.
How accurate are the Previews?  Well stuff always gets changed, but here are some examples of the Black & White "Previews" versus the Full Color Comic version: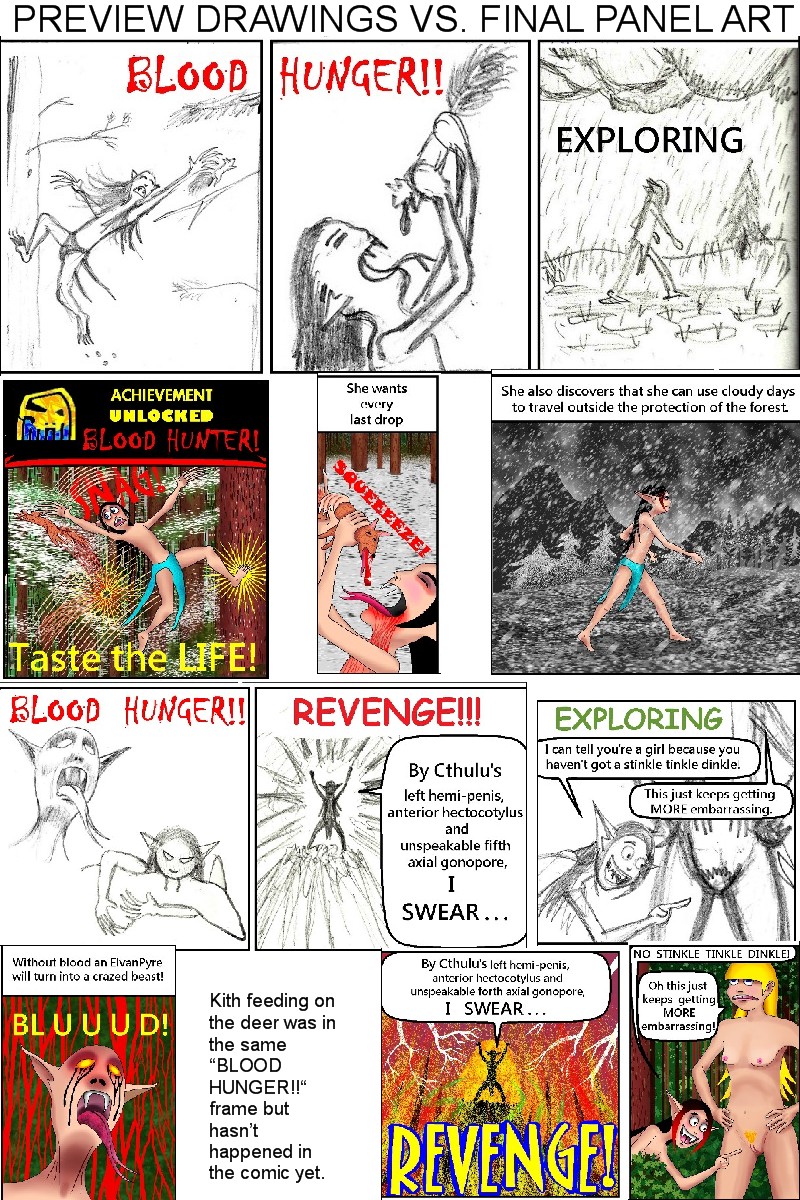 These Previews Cover Chapters 1 & 2
Chapter 2 will be about Kith growing up and choosing all the "Renegade" options.
At the End of Chapter 2 she will be with the Vampires at Alf-Ridge.
Chapter 3 starts the Vampire Hunters recruiting Ralf to help them go after the Vampires at Alf-Ridge.
Leader of the Vampire Hunters: "You're all bloodsuckers; Get in there, earn their trust, then MAKE THEM REGRET IT!"
Ralf will go to Alf-Ridge and meets Kith, but expect Ralf to screw things up.
Here is Ralfs intro Page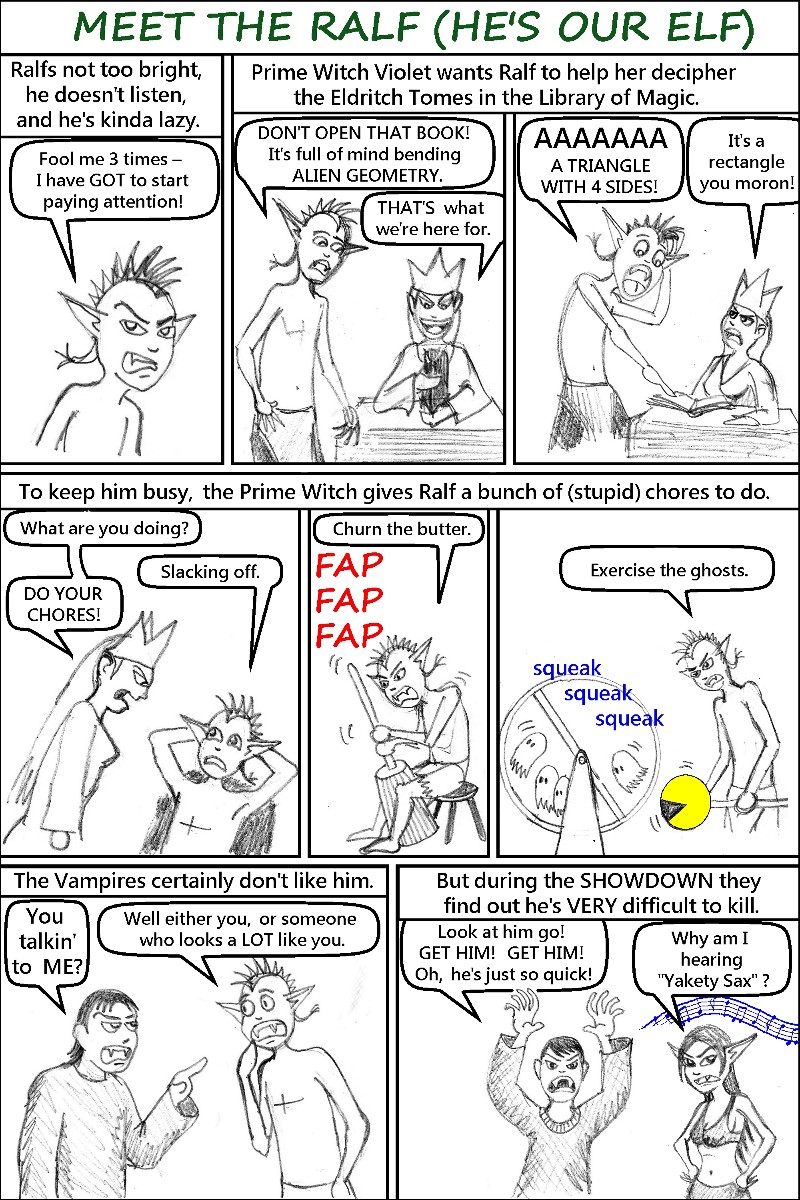 Kith starts off as a child, getting in fights with everyone around her. When she becomes an adult she moves to Alf-Ridge and joins the Vampires.
Here is Kiths intro page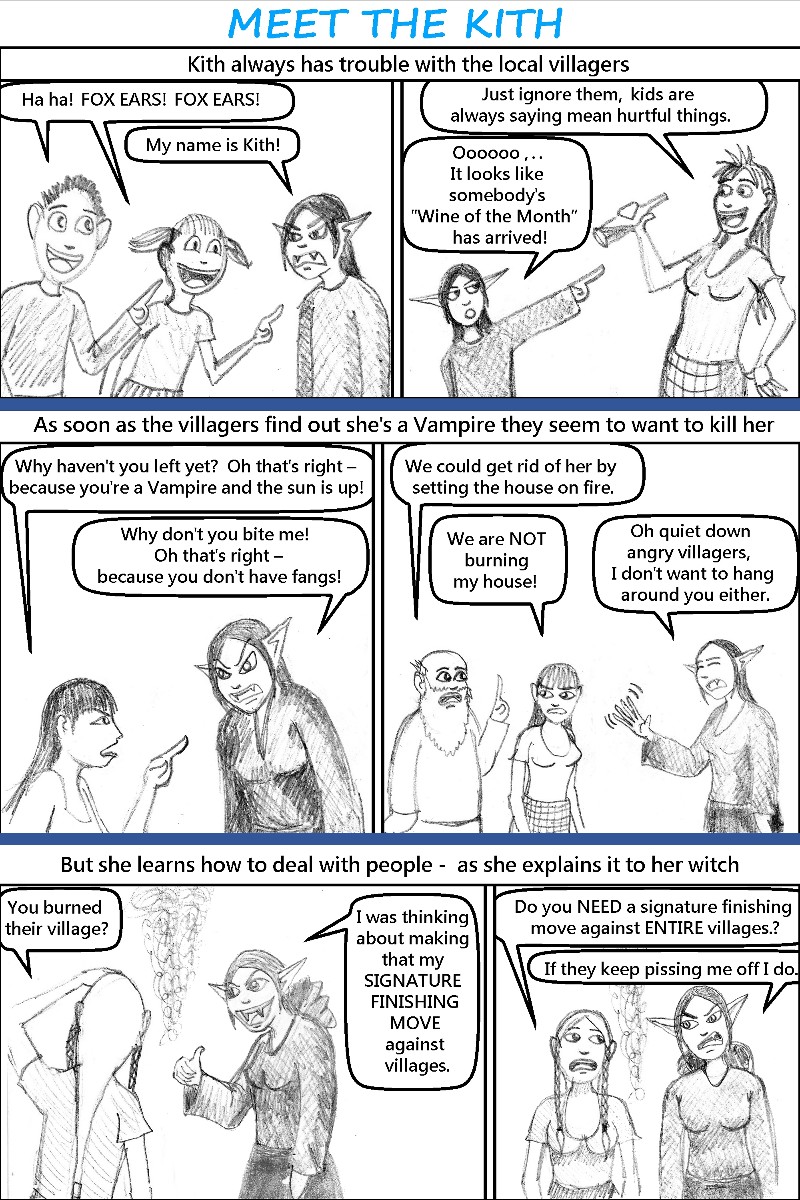 Here is the Map,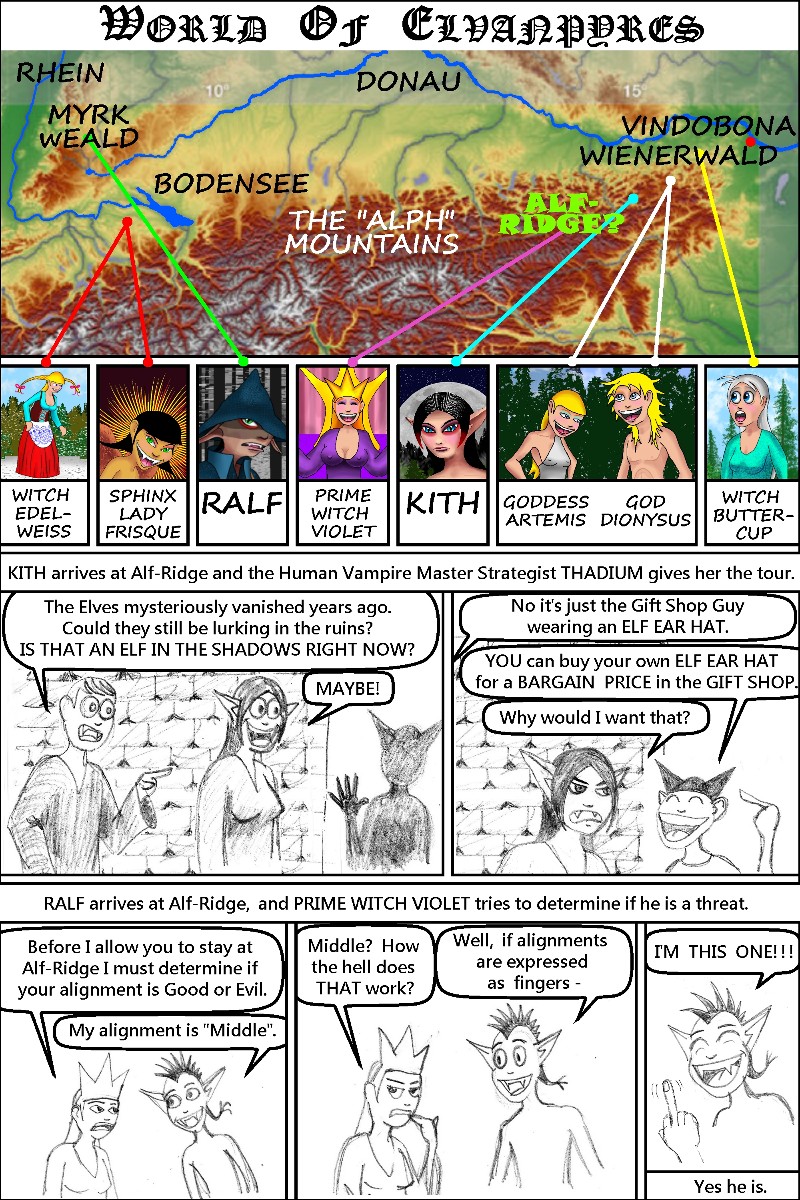 Here are the previews in somewhat chronological order (some pages have multiple events from different times).
The crappiest drawings are directly from the plot book. Then I started redrawing them to make them look a little better. As I did more filler pages I started spending more time on them and they started to look pretty good.
When I'm not doing the regular full color comic these B&W filler pages help keep my drawing skills from getting too rusty.
Young Kith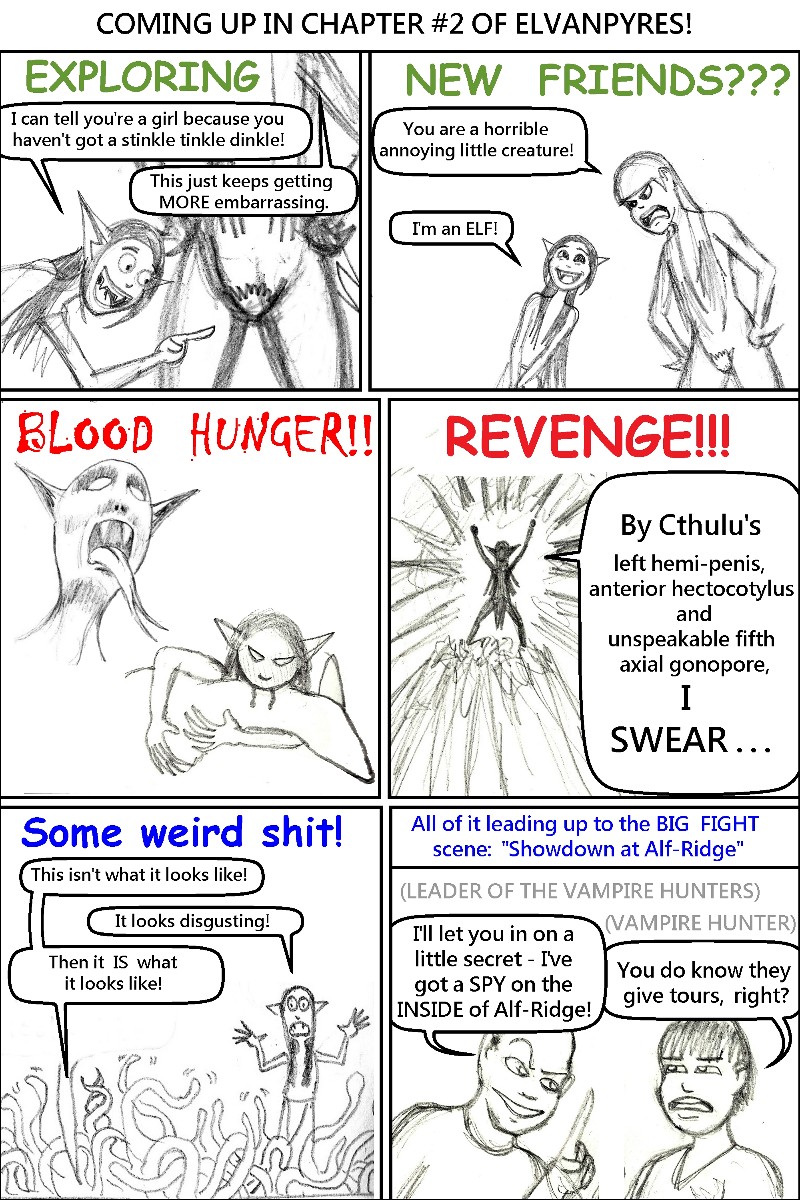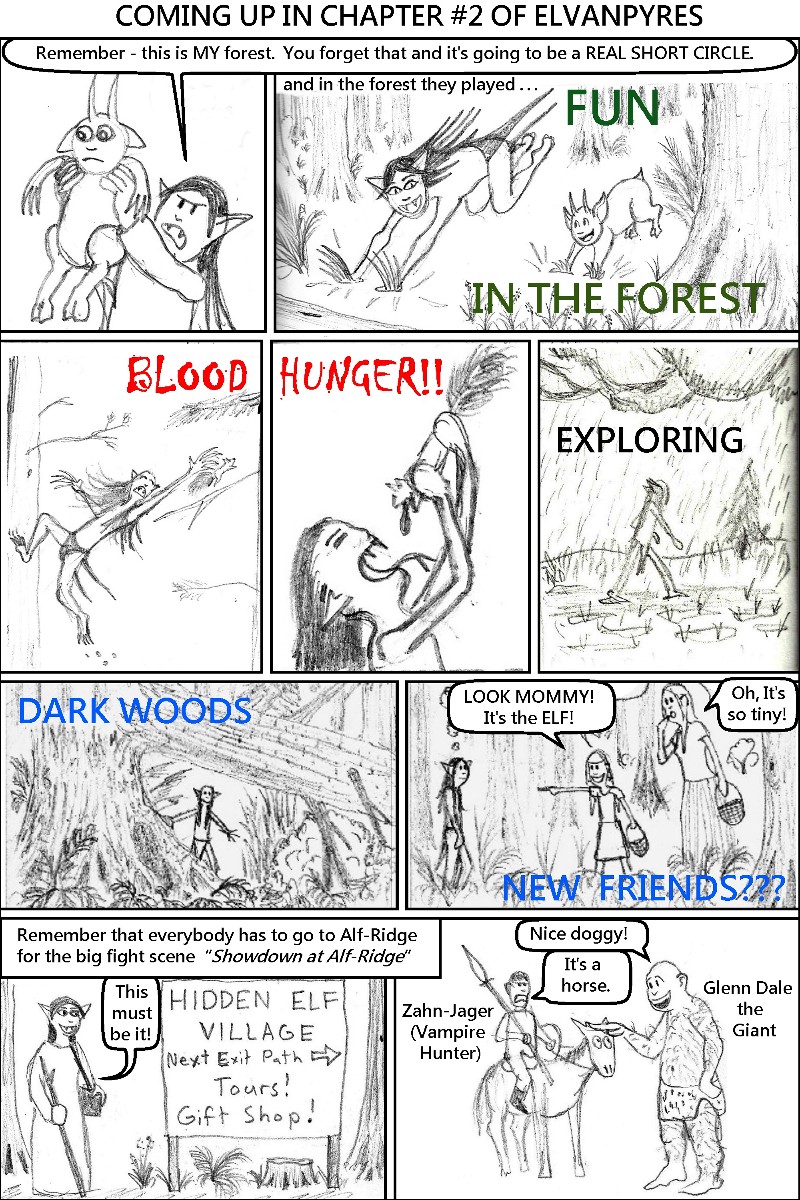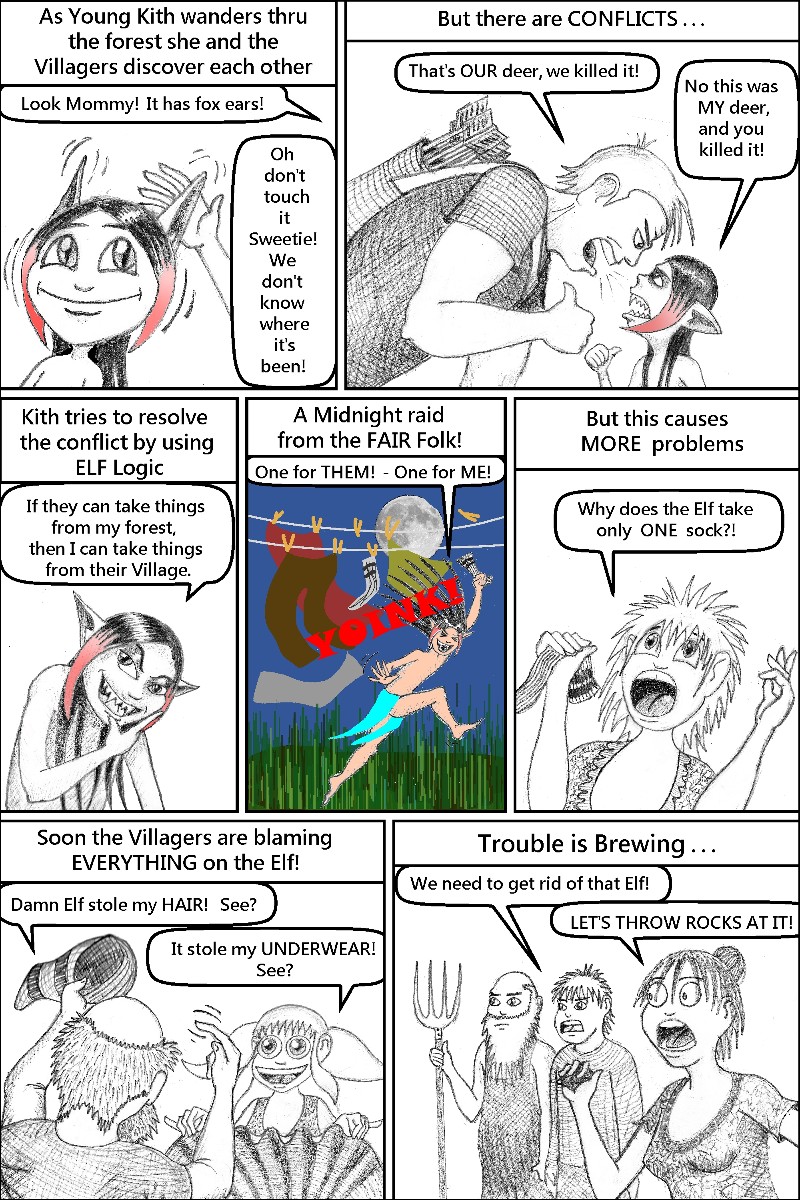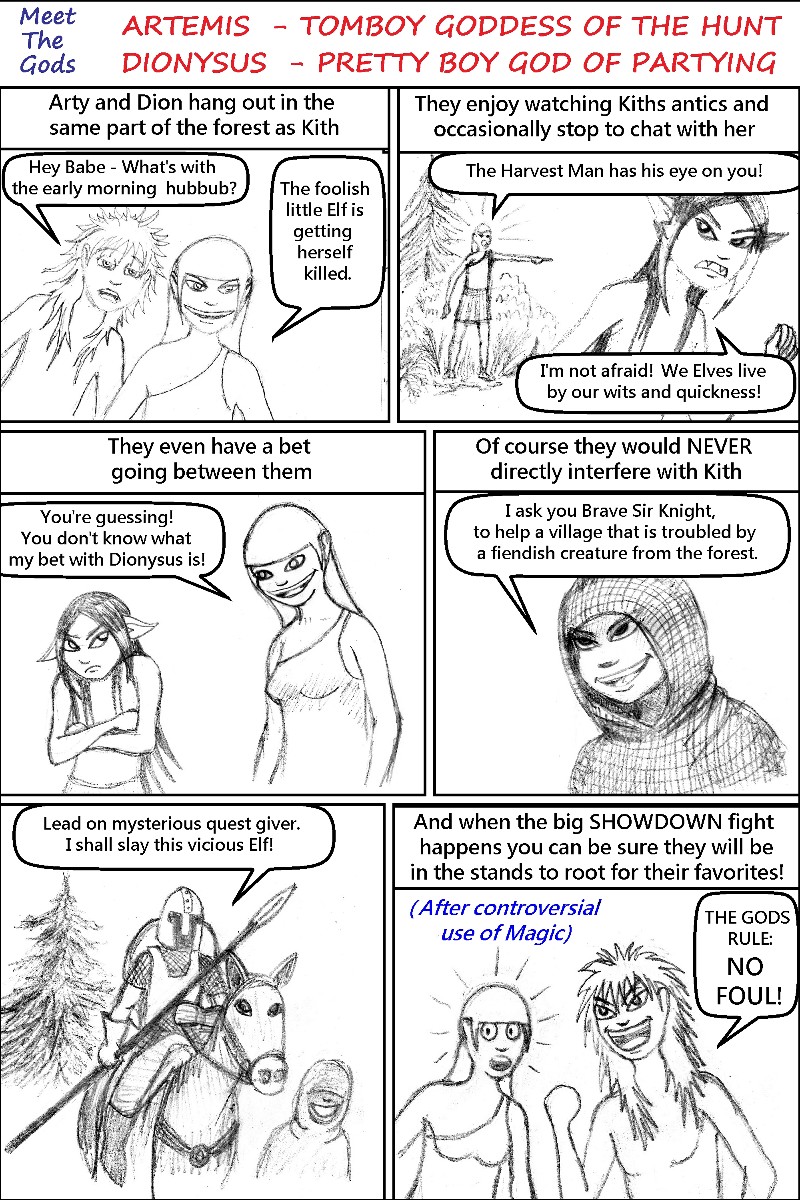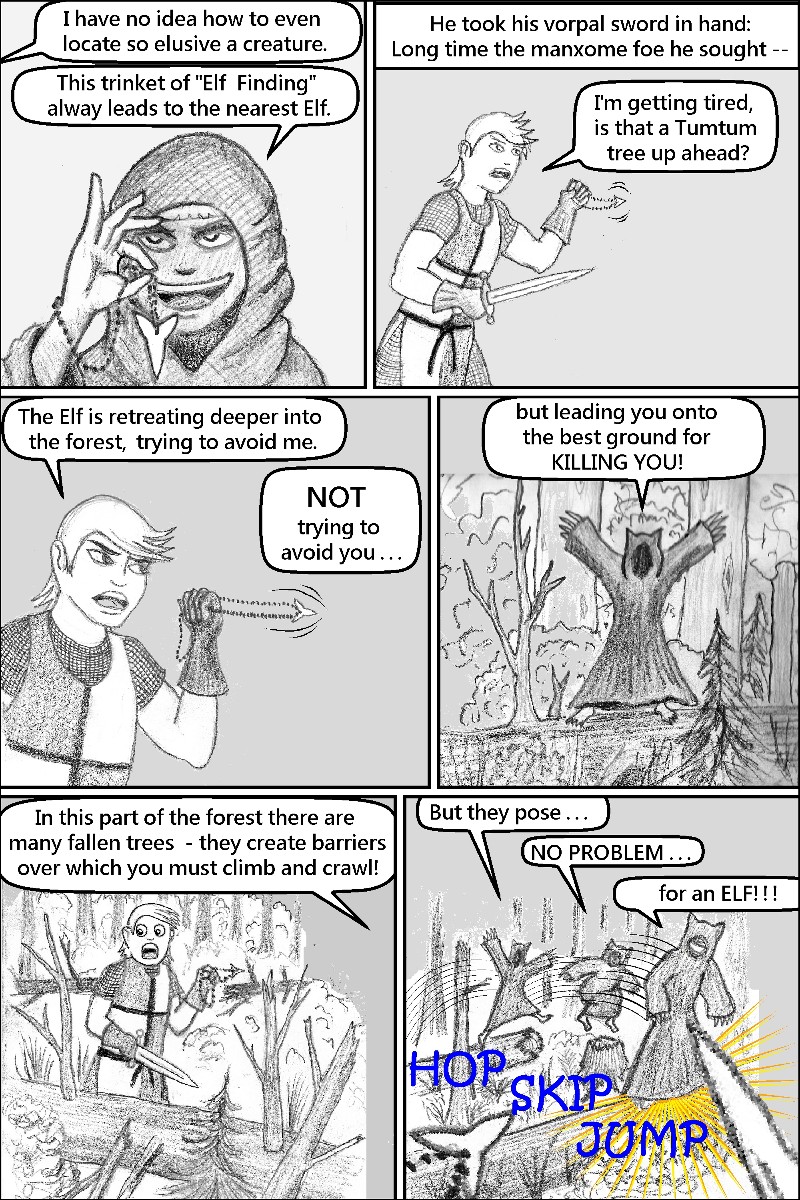 Chapter 2 ends with Kith being given a Tour of Alf-Ridge by the Vampires Master Strategist Thadium.
He ends up with a crush on her.
The other important characters at Alf-Ridge are Prime Witch Violet who runs the place
and her assistant, Witch Lilac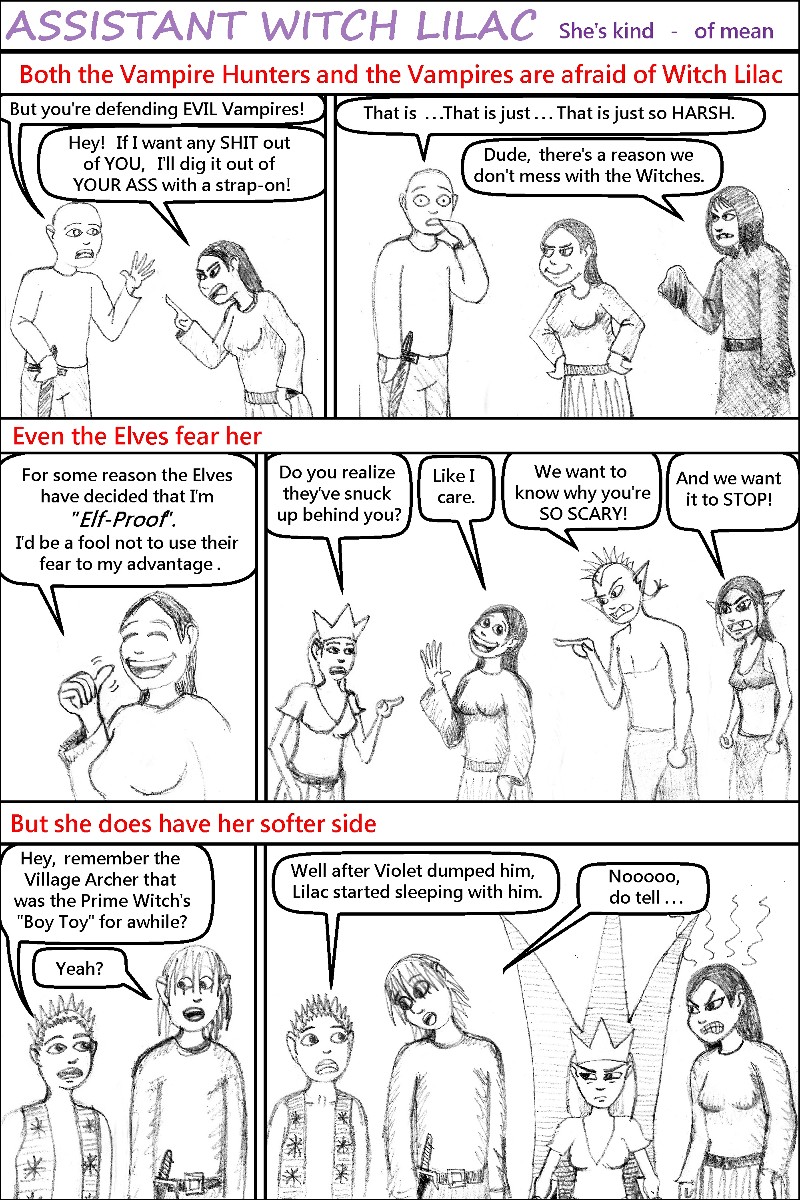 Chapter 2 ends with Kith settling into Alf-Ridge, Chapter 3 begins with Ralf arriving there.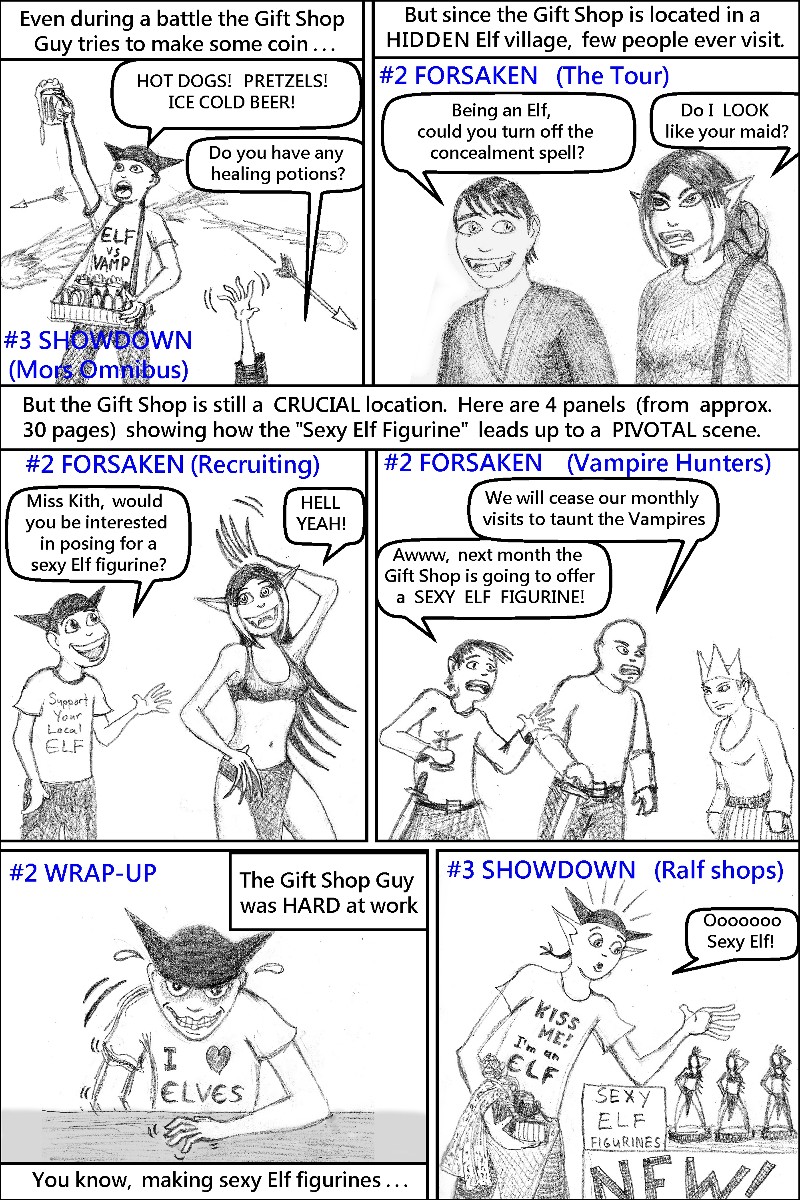 Remember the Elf  G'Star (pronounced like "Jester" only more G'Star-y)?
In Chapter 1 she narrowly escaped when the other Elf Scholars were killed by the Vampires.
Chapter 3 starts with G'Star giving a Tarot Card reading that she claims will foretell everything that is about to transpire at Alf-Ridge. At the bottom of the page all the tarot cards are presented in the order in which they will happen.  As the story progresses, they will again be shown as that event occurs.
I plan to be covering this in a filler comic in the near future.
Here is how Chapter 3 unfolds-
Ralf and Kith meet (Kith doesn't realize it's Ralf that she's sworn vengeance against, and he's not telling her)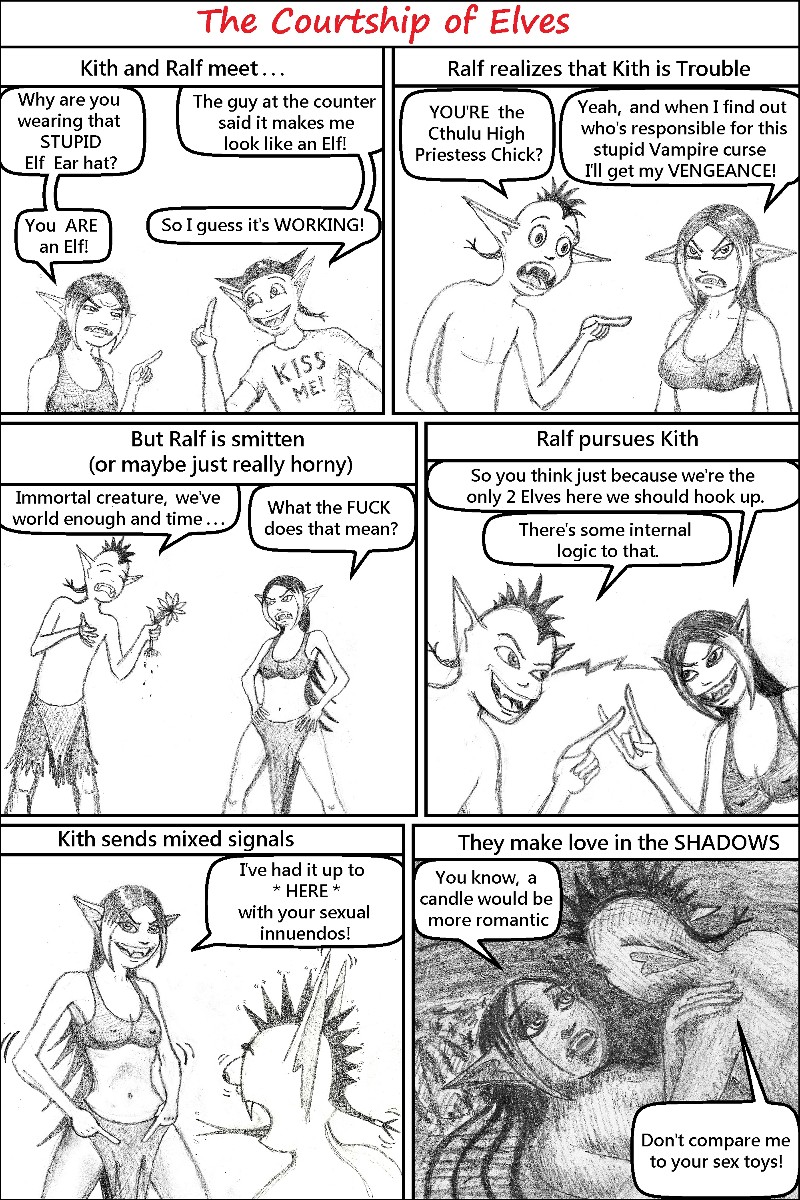 But Ralf starts annoying everyone around him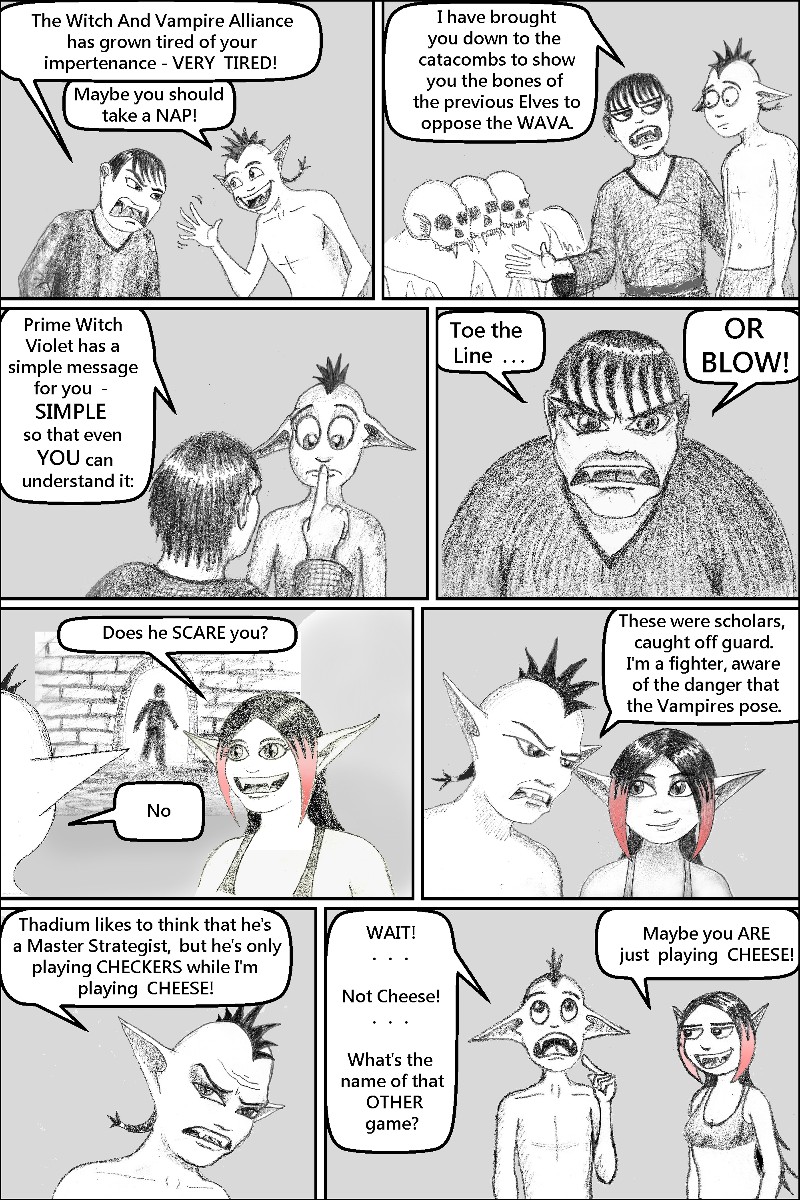 But when Ralf blows his cover he knows he needs help, and turns to the (Drunken) Dwarvanpyres in the sub-basement.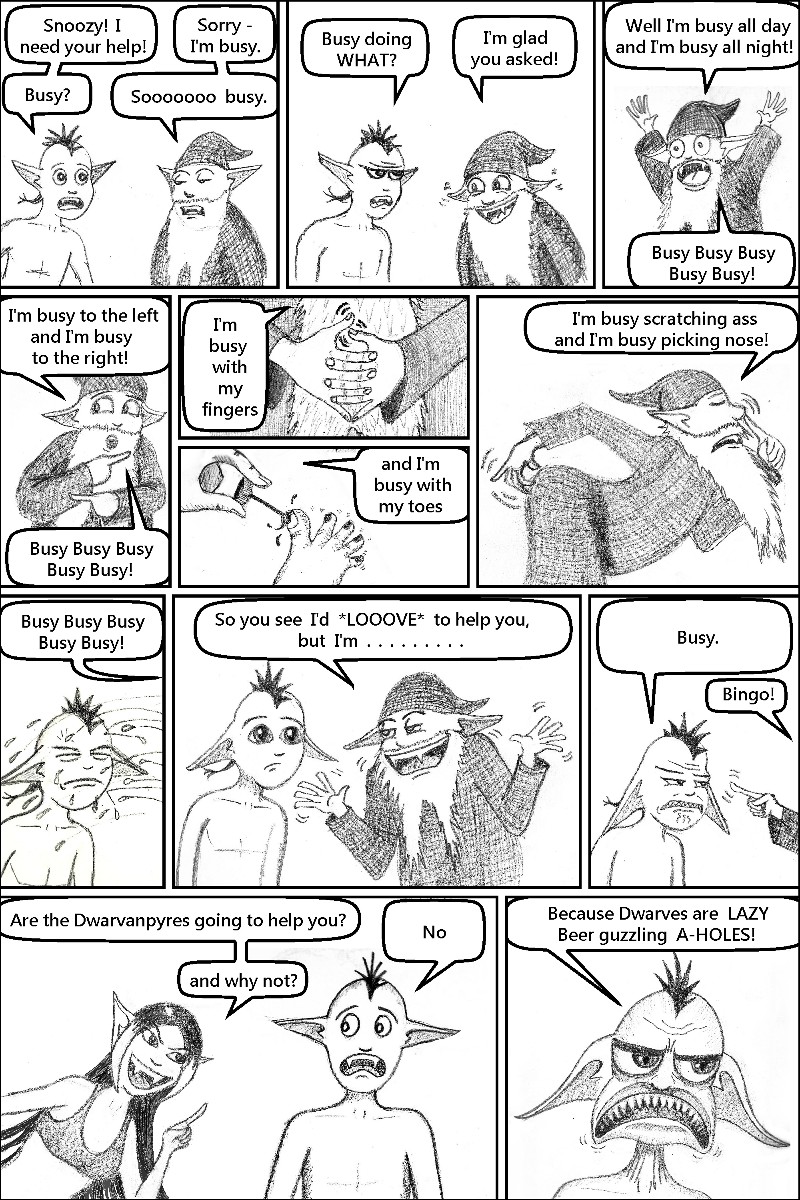 The plot to kill Ralf moves forward.
When Thadium asks where the Ice Mage and Giant are at, he is told they are off planning their strategy (Thadium had told them to work as a team). These panels from the plot book reveal that they are actually just having lunch.
Also present are the Ice Mage's pet Veloci-Goblins; Scrappy (male) and Snappy (female).   Ralf doesn't like them (because they tried to kill G'Star) and refers to them "Crappy and Nappy".
They WILL be involved in the big fight scene.
THE COLUMNSEUM TOWER
Back when I was young I enjoyed climbing around on the structures in Freeway Park in Seattle.  I thought it would be nice visuals to use in drawing a comic, with people jumping between columns and levels.
As an example of Brutalist Architecture, I think it's fitting for an Elf vs. Vampire showdown fight.
https://en.wikipedia.org/wiki/Freeway_Park
Seattles Freeway Park: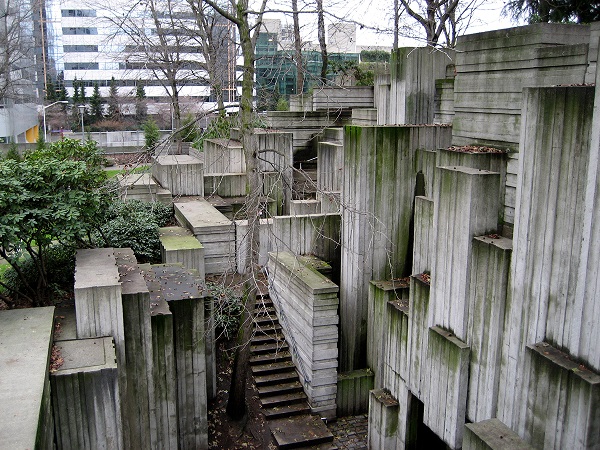 Freeway Parkour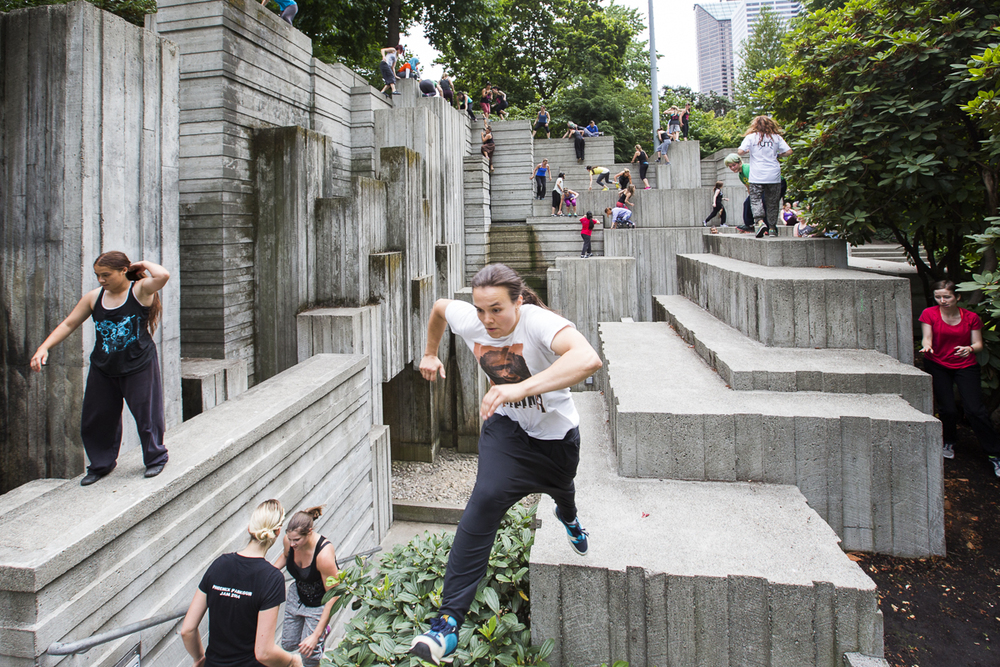 I will probably also use pictures of the Holocaust Memorial in Berlin (2,711 stellae) as a reference for drawing:
https://en.wikipedia.org/wiki/Memorial_to_the_Murdered_Jews_of_Europe
The idea of the Columnseum Tower was just to have an interesting location for the big final fight to take place. Its structure needed to  allow Ralf to evade a numerically superior enemy until more combatants joined in.
The back story explanation of how the Columnseum Tower was created is this:
There was a pinnacle of rock in Alf-Ridge that the Dwarves craved into multiple columns. They then built a towering structure around the columns and gave it to the Elves to use as a training facility to teach the young Elflings how to be nimble while fighting.
The spaces between the columns extend underground, and a fall from the top is enough to spat an Elf or Vampire. That outcome can be avoided if a"Fall Brake" spell is used at just the right time.
You can see my kinda/sorta plan for how I want it to look on Comic #1
1 - ElvanPyres, the Burning Elves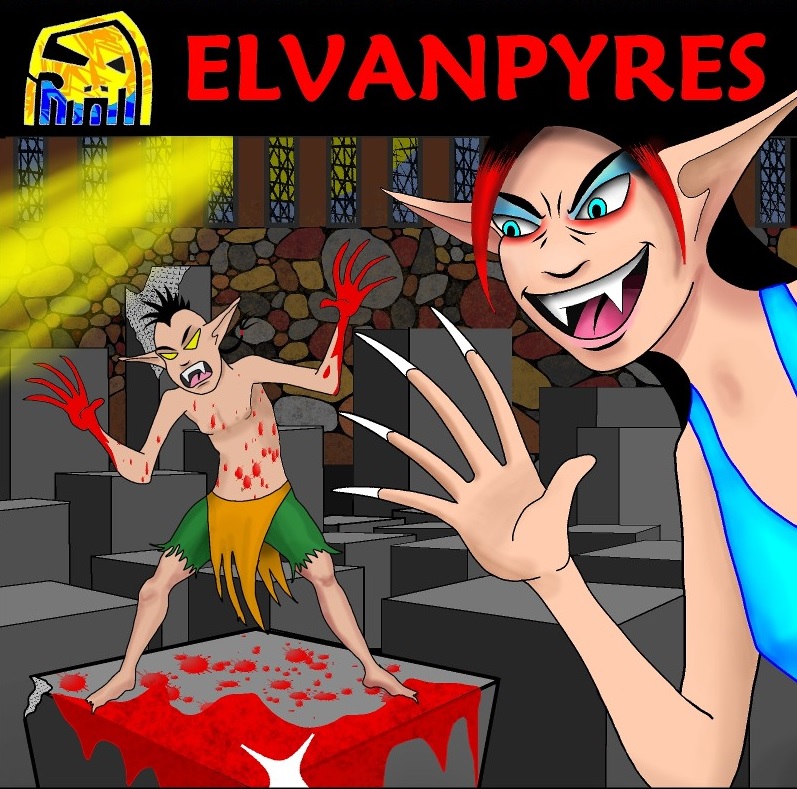 This is a (very) rough draft of a couple panels to give me an idea about how the framing will go. I need to improve quite a bit to pull this off, but that is why chapters 1 and 2 are there; to give me a chance to practice.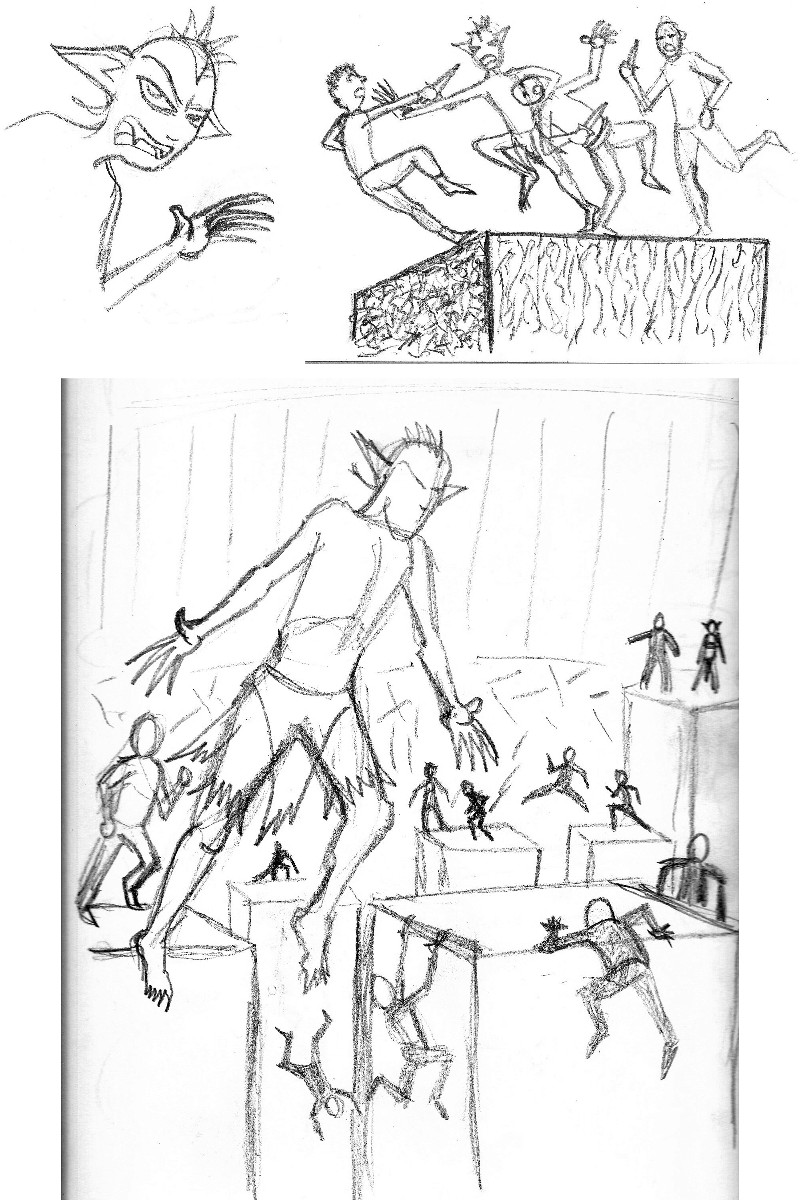 At the beginning of Chapter 3 G'Star shows this this Tarot card to predict the big fight in the Columnseum Tower that concludes Chapter 3.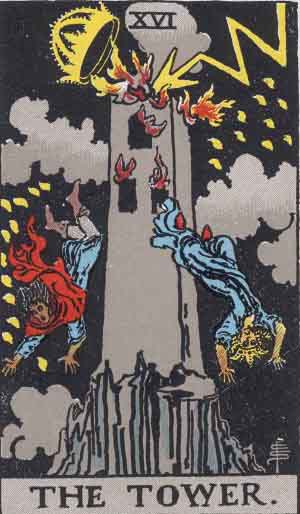 The big fight starts with Thadium luring Ralf into the trap in the Columnseum Tower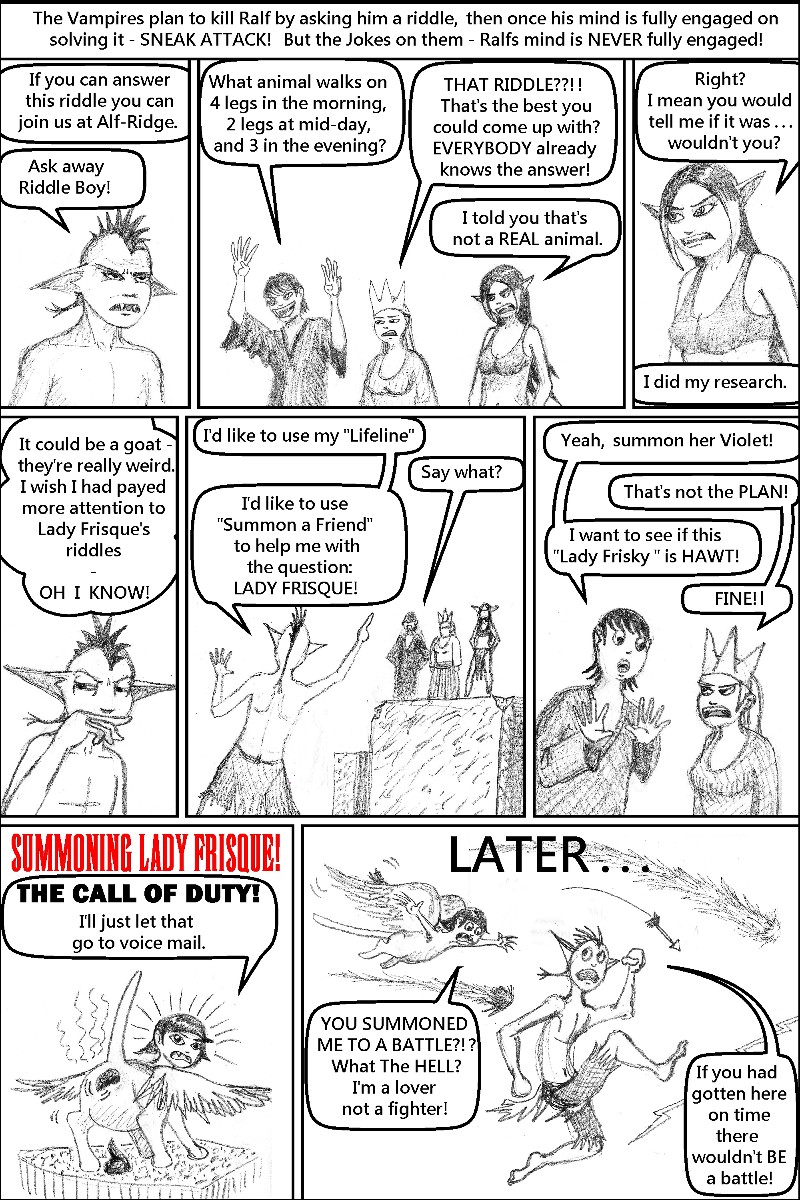 But Ralf is difficult to kill (The Vampires have to follow the contours where the levels create "steps" that they can use to haul themselves up, whereas Elves can climb straight up the shear rock walls)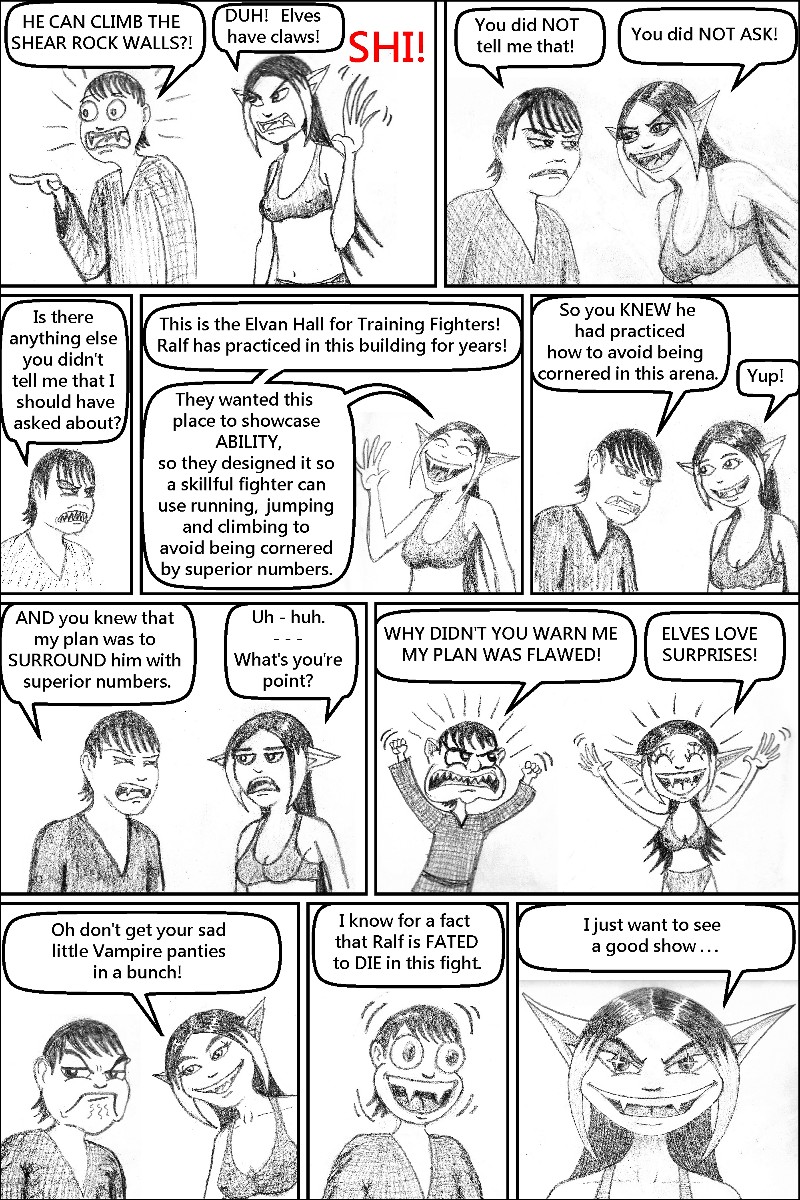 Lady Frisque finally shows up  –  can she save Ralf?
Sure we're all looking forward to the BIG fight scene, but there are plenty of laughs between now and then